RAMMSTEIN "MADE IN GERMANY 1995 - 2011" - Nova Turneja
Konačno i zvanične informacije vezane za Novu Rammstein Best Of Turneju pod nazivom "Made In Germany 1995 - 2011". To će biti sasvim novi šou sa set listom najboljih pesama koje su obeležile 16 godina postojanja benda Rammstein. Turneja će startovati 6. novembra 2011. (ukupno 17 datuma). Nažalost ovoga puta Beograd nije jedan od navedenih koncerata, ali svakako možemo biti zadovoljni jer će Rammstein nastupati u Budimpešti, Bratislavi i Praga što je ipak u susedstvu. Pretprodaja karata će početi 24. juna. Turneja će se nastaviti i u 2012. godini.

Takođe, na jesen nas očekuje i Best Of Album Rammstein-a, sa jednom novom pesmom za koju je i snimljen spot u Los Angelesu (23. maja 2011.) pod produkcijom švedskog producenta Jonas Åkerlund-a (koji je već režirao spotove Ich Tu Dir Weh, Pussy, Mann gegen Mann) i ekskluzivno sa svim spotovima Rammstein-a na CD/DVD-u!!!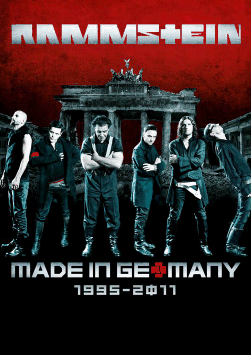 Turneja "Made In Germany 1995 - 2011"

06.11.2011 - Slovakia, Bratislava, Zimny Stadion
10.11.2011 - Hungary, Budapest, Sportarena
12.11.2011 - Czech Republic, Prague, O2 Arena
14.11.2011 - Poland, Gdanks/Sopot, Ergo Arena
17.11.2011 - Germany, Leipzig, Arena
20.11.2011 - Germany, Munich, Olympiahalle
21.11.2011 – Germany, Friedrichshafen, Rothaus
23.11.2011 - Austria, Vienna, Stadthalle
25.11.2011 - Germany, Berlin, O2 World
28.11.2011 - Germany, Hamburg, O2 World
29.11.2011 - Germany, Bremen, Arena
01.12.2011 - France, Strasbourg,Zénith
02.12.2011 - Luxembourg, Luxembourg, Rockhal
04.12.2011 - Germany, Düsseldorf, ISS Dome
08.12.2011 - Germany, Frankfurt, Festhalle
10.12.2011 - Germany, Stuttgart, Schleyer-Halle
12.12.2011 - Switzerland, Zurich, Hallenstadion

Sve dosadašnje koncerte i turneje koje je Rammstein održao možete pogledati:
Live > Turneje



LINK: » RAMMSTEIN.COM » RAMMSTEIN SERBIA FORUM
DATUM: 17.06.2011
RSS Feed Podeli/Share