RAMMSTEIN & MARILYN MANSON - ECHO AWARDS 2012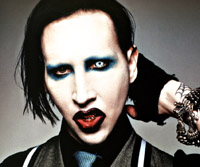 Rammstein i Marilyn Manson, zajedno će izvoditi hit "The Beautiful People", prilikom dodela Echo nagrada u Berlinu.

Da se podsetimo "The Beautiful People" je singl iz 1996. godine koji se pojavio na Manson-ovom albumu "Antichrist Superstar".

Rammstein & Marilyn Manson, kako će to izgledati? Kako će to zvučati? Verujemo genijalno, a ostaje nam da se u to uverimo 22. marta 2012. godine od 20:15h uz direktan prenos na TV ARD-u ili preko > Online Stream Linka.


Rammstein je ove godine na Echo dodeli nagrada nominovan u 4 kategorije:
- Best Rock/Alternative
- Best Video National (Mein Land)
- Best International
- Best Live

Sve dosadašnje nagrade i priznanja koje je Rammstein dobio možete pogledati ovde.
LINK: » RAMMSTEIN.COM » RAMMSTEIN SERBIA FORUM
DATUM: 20.03.2012
RSS Feed Podeli/Share