"MEIN HERZ BRENNT" (EXPLICIT & PIANO VERSION) VIDEO PREMIJERA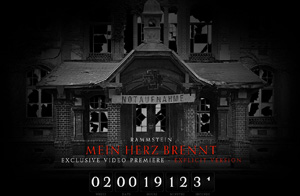 Prva verzija novog spota "Mein Herz Brennt" koji se vodi kao Eksplicitna verzija biće premijerno emitovan online 14.12.2012. godine, na novom sajtu "Mein Herz Brennt" > www.mein-herz-brennt.com.

Pozivaju se svi Fanovi da ovu adresu podele / share-uju na društvenim mrežama (facebook, myspace, twitter...), da bi svi bili upoznati sa datumom premijere ovog novog fantastičnog video izdanja benda Rammstein!



Dok će se "Mein Herz Brennt - Piano Version" premijerno emitovati takođe na internetu - online preko zvaničnog portala benda Rammstein: www.rammstein.de - 07.12.2012. godine.


Kao što smo već najavili "Videos 1995-2012" DVD & Blu-Ray izdanje, pojaviće se u prodaji takođe 14.12.2012. godine, a sadržaće sve Rammstein Video spotove i Making Of sa dodatne 2 verzije spota za pesmu "Mein Herz Brennt" i naravno Making of za istoimenu pesmu.


Pratite nas, postanite član Fanclub-a, saznajte sve novosti preko Rammstein Serbia Fanclub Foruma.

LINK: » RAMMSTEIN SERBIA FORUM» WWW.MEIN-HERZ-BRENNT.COM
DATUM: 29.11.2012
RSS Feed Podeli/Share